Welcome to
Rixos Gulf Hotel Doha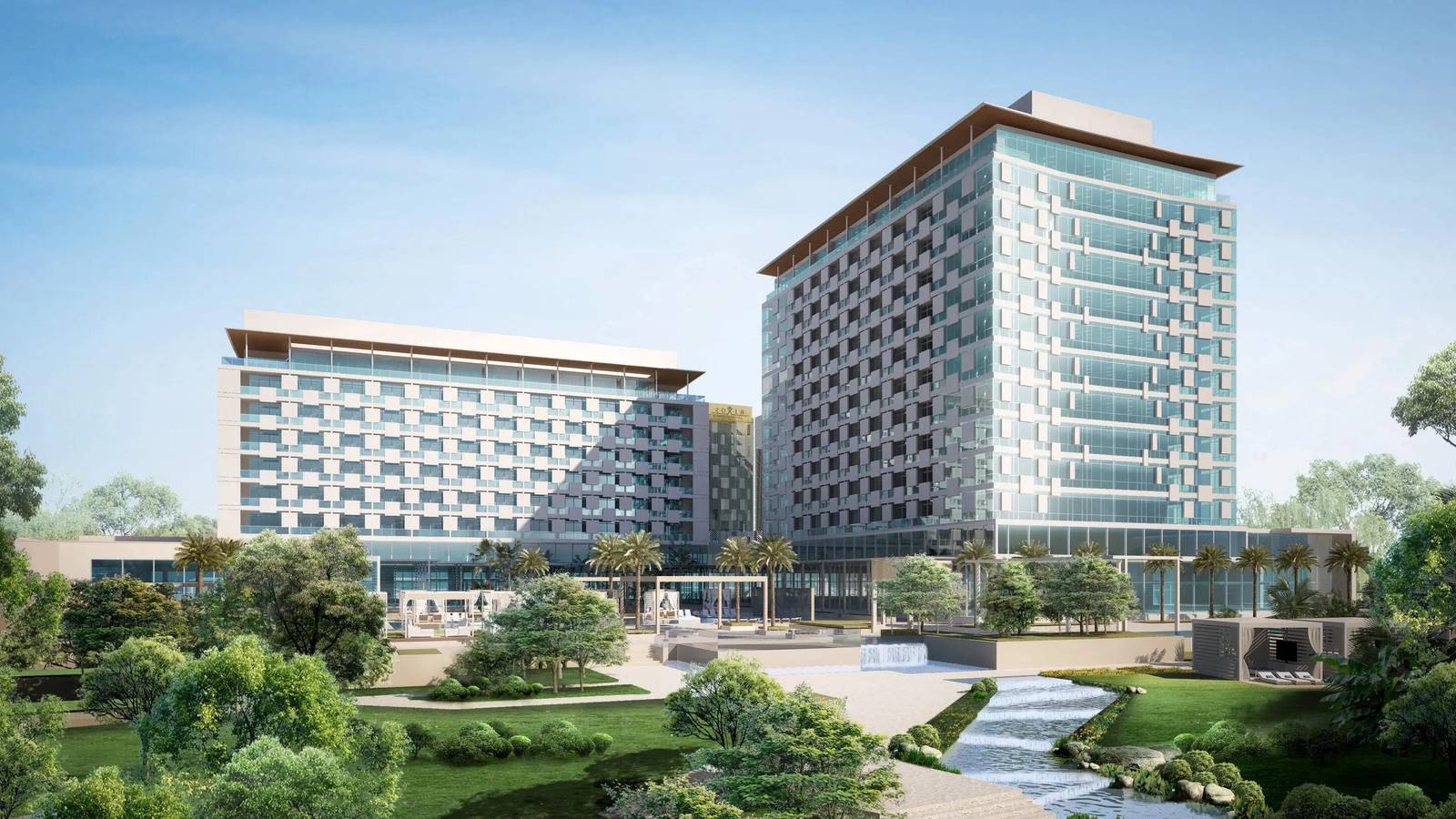 The first all-inclusive resort in Qatar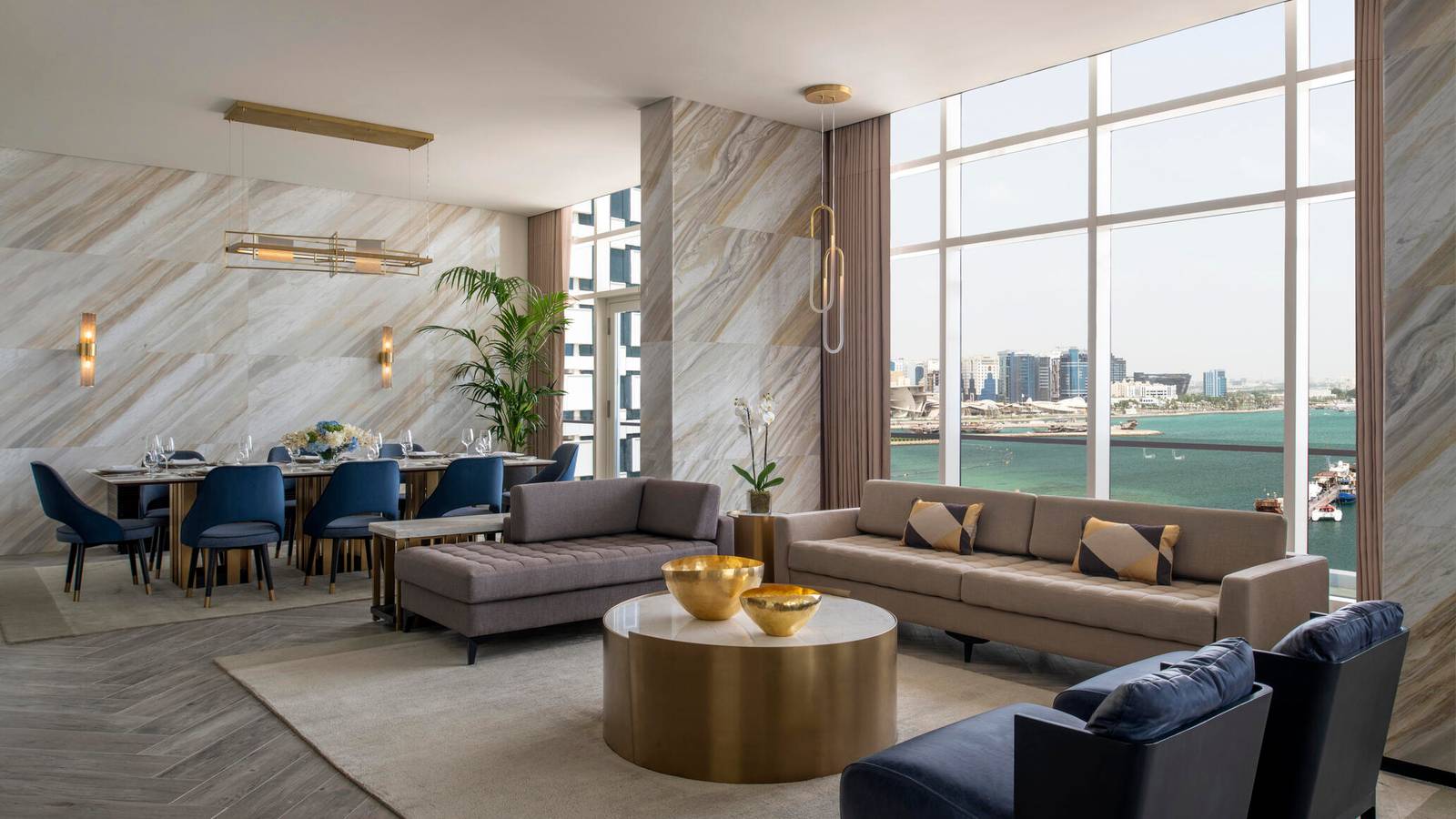 Opulence and exclusivity await you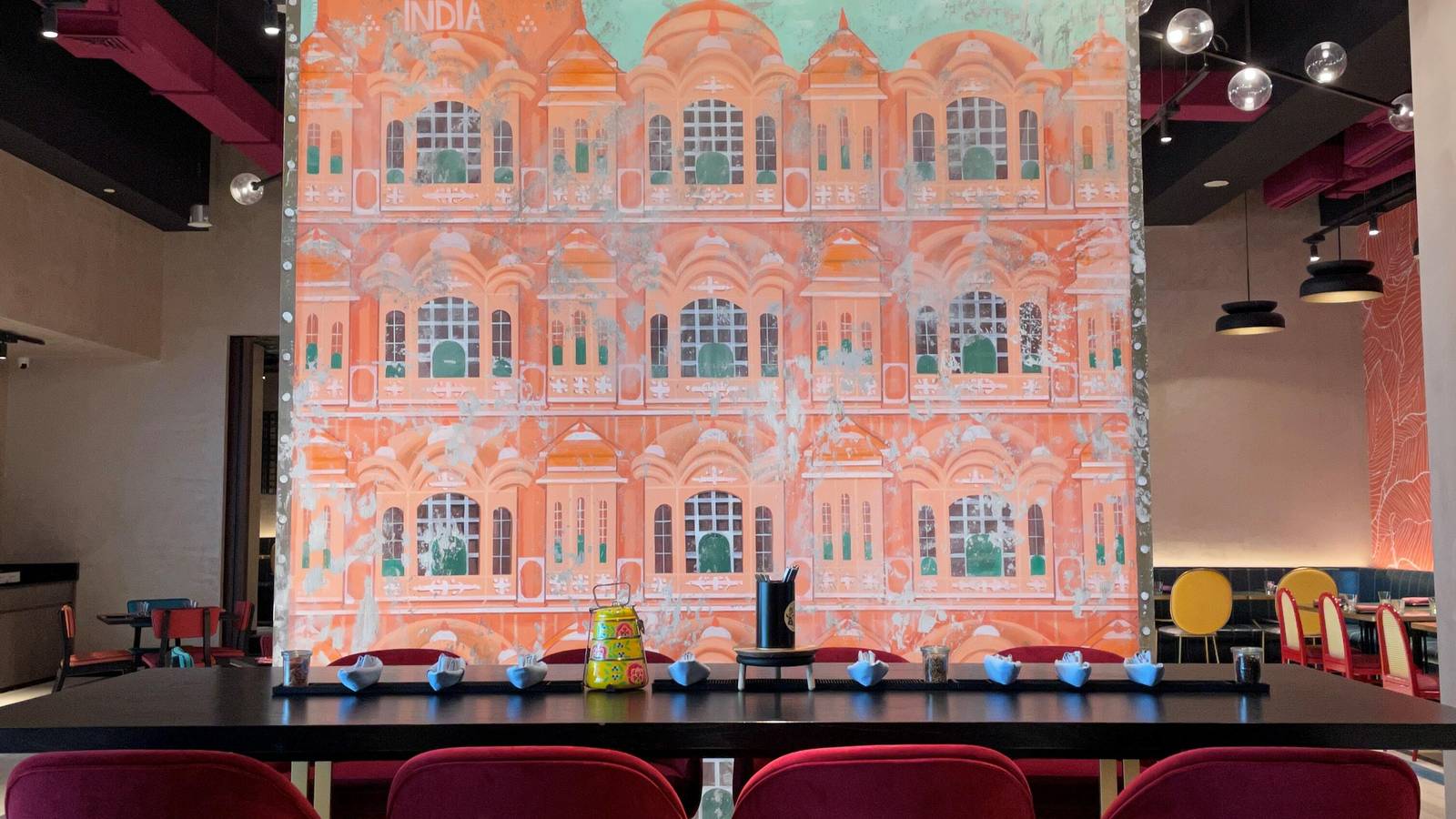 RASA - Contemporary take on Indian cuisine

AKTE PIER 51 - Modern Greek concept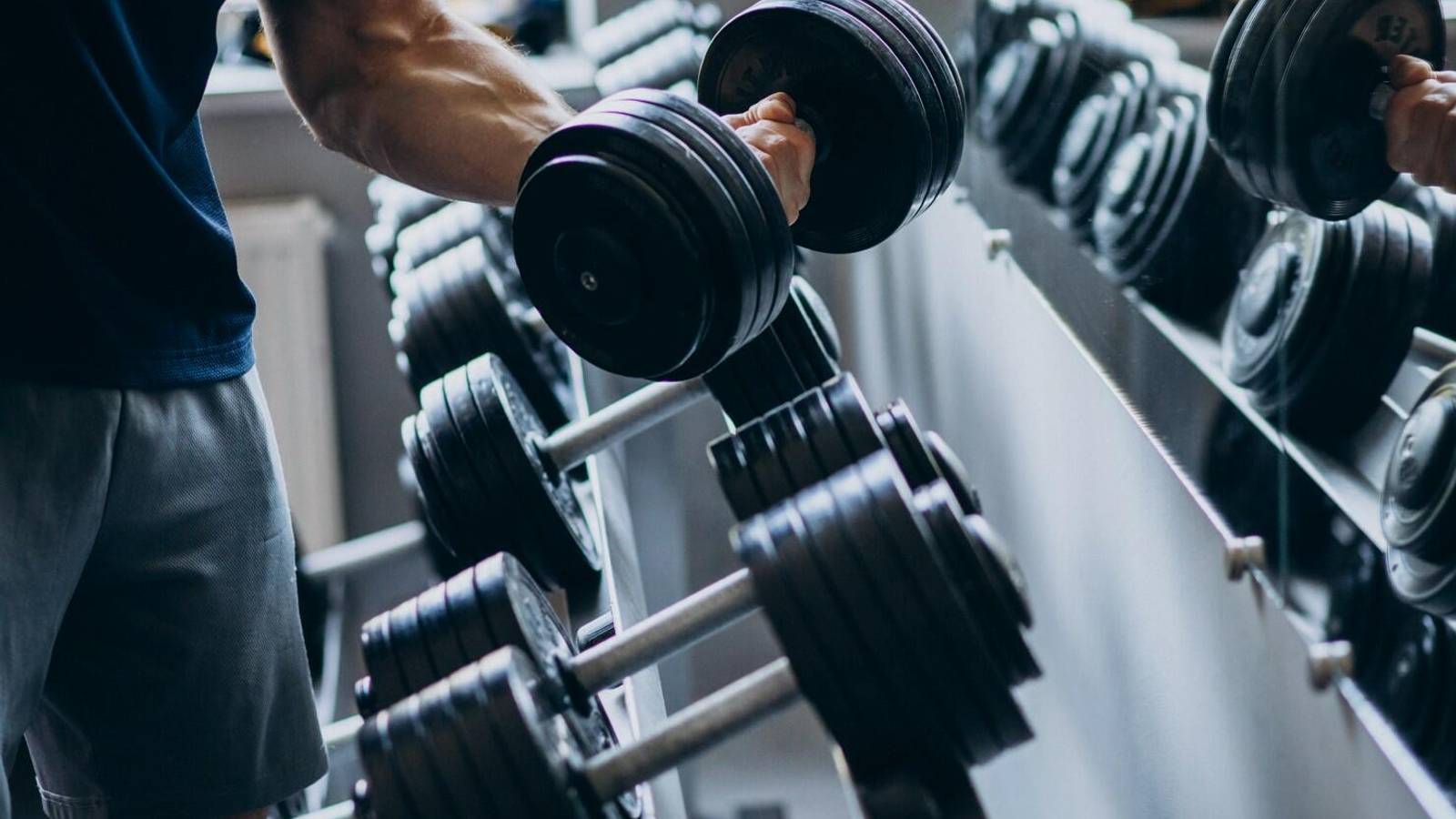 EXCLUSIVE SPORTS CLUB MEMBERSHIP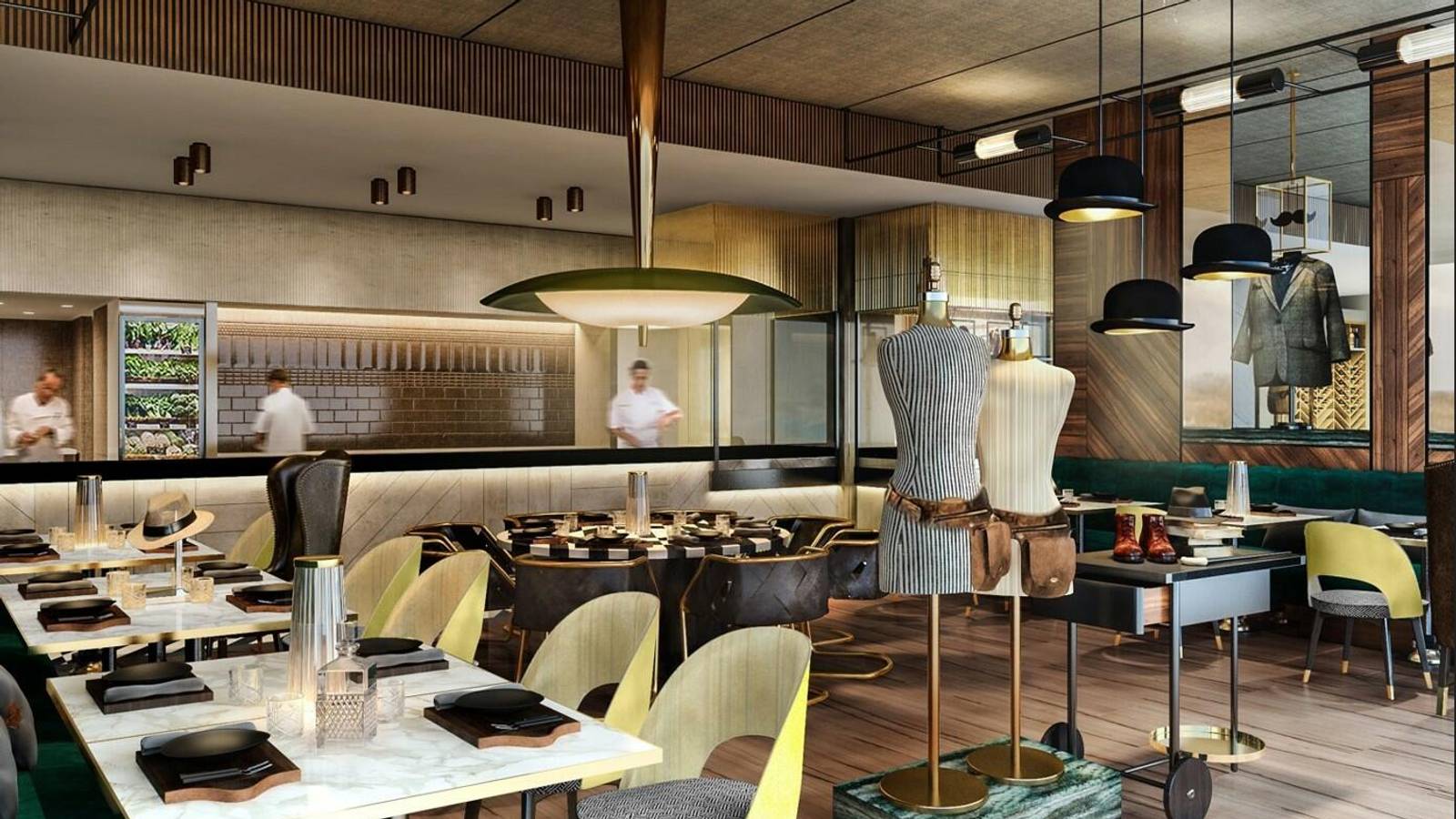 Photo gallery
Our services
Swimming pools
Hammam
Concierge
Beach and water sports
Well-being
Internet access
Wheelchair access
Bars
Restaurants
Meeting room(s)
Massage
Room services
Overview
Rixos Gulf Hotel Doha is the first luxury beach resort in Qatar to pioneer the all-inclusive lifestyle concept. Our guests will revel in panoramic views of the azure waters of the Arabian sea and Doha's iconic shimmering skyline. Located near Hamad International Airport and Doha's popular tourist and entertainment destinations, the hotel is easily accessible to business and leisure travellers alike. The hotel is situated within an iconic building; Qatar's first 5-Star hotel, established in 1973 and is considered the cornerstone of the hospitality industry within the country. This new venture reimagines the iconic property with luxurious offerings under the Rixos all-inclusive concept, wherein guests will embark on a memorable journey: abundant with delectable food and premium beverages, engaging entertainment, stimulating sports and kid's activities, and immersive spa experiences.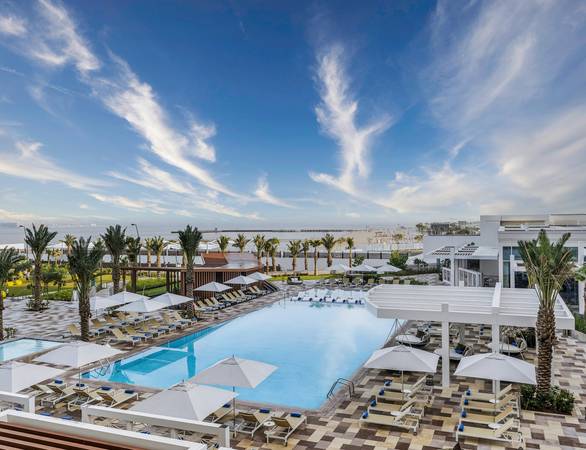 Ras Abu Aboud Street
Qatar, Doha
All-Inclusive, All-Exclusive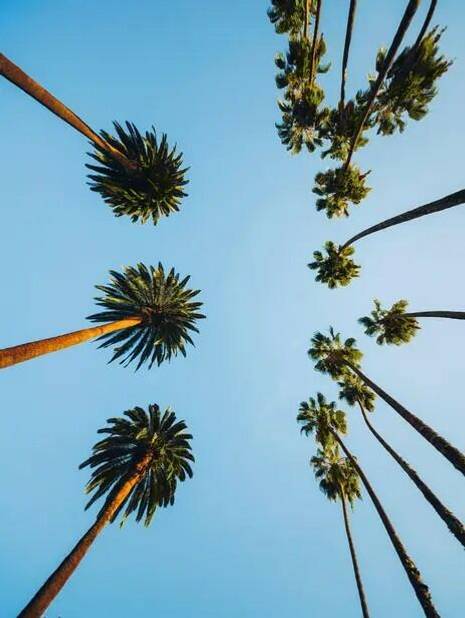 Indulge in an All-Inclusive All-Exclusive experience at Rixos Gulf Doha designed for you to feel a new sense of freedom and discover a world of possibilities through luxurious stays, lavish stream of worldly cuisines, energetic entertainment, fun-packed activities, and an exemplary display of Turkish hospitality.
At Rixos, our service is personal and our vision ensures guests have an individual and meaningful experiences. Create exceptional #RixosMoments through All Inclusive experiences across Rixos Gulf Doha that offer a fresh perspective on your kind of luxury and lifestyle paradise.
The Magic of Ramadan
Enjoy a sumptuous spread of traditional Iftar and Suhoor favourites in the opulent outdoor Rixos Gulf Ramadan garden tent with family and friends.
See details +
This Ramadan, relax in a beach retreat escape and savour Rixos Iftar and in-room Suhoor for two adults and 2 kids below 6 years for QAR 1000
See details +
Experience an exclusive traditional Iftar or Suhoor feast at the privacy of Rixos premium cabanas.
See details +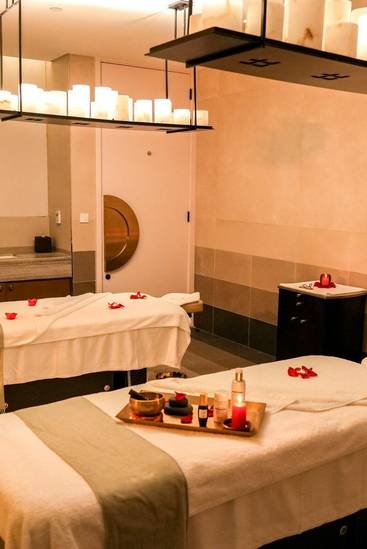 Anjana Spa Offer
Treat yourself to a moment of expert pampering and total relaxation. Step into Anjana Spa tranquillity and begin your journey of self-discovery for 1200 QAR.
The package includes:
Hydra facial
Hydrating scrub and full access to wet area
Free pedicure
Book now +974 4428 8555

Outside Catering
Cherish Ramadan and all its traditions in the comfort of your home. Enjoy an array of Iftar & Suhoor offerings with our customisable outside catering packages delivered to your doorstep. A unique Ramadan culinary experience is in store for you. Outside catering packages are available. Orders must be placed at least 24 hours in advance.
Phone:+974 3392 4213
Email: mehroz.megoon@accor.com 
Rooms and Suites
Rooms
(3 types)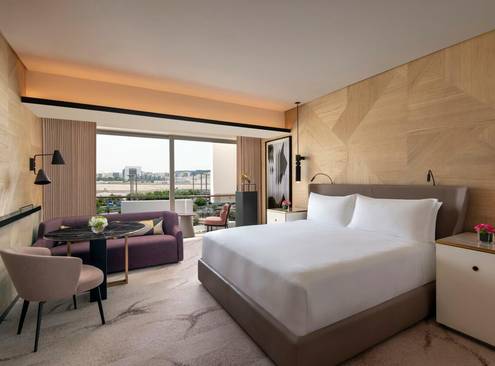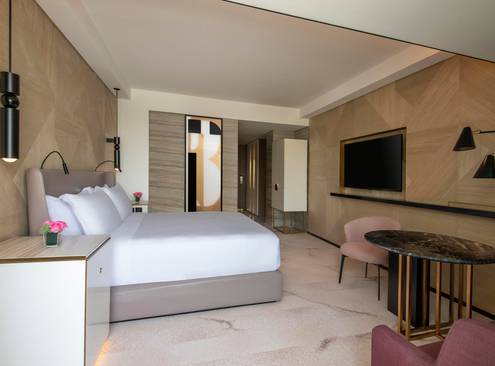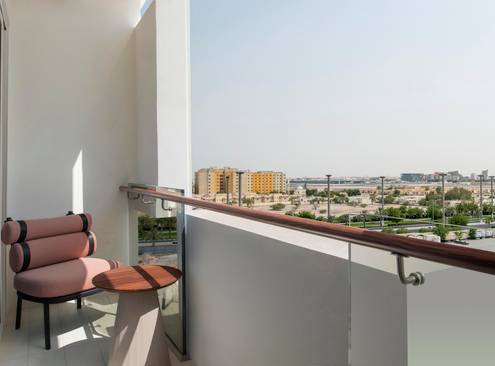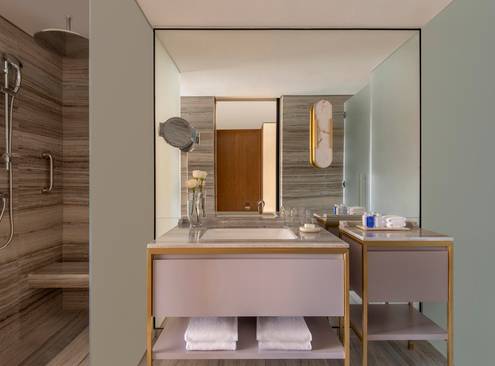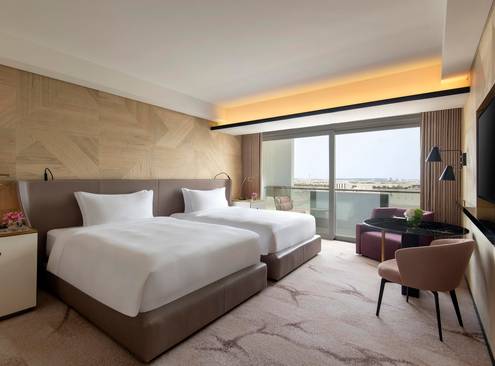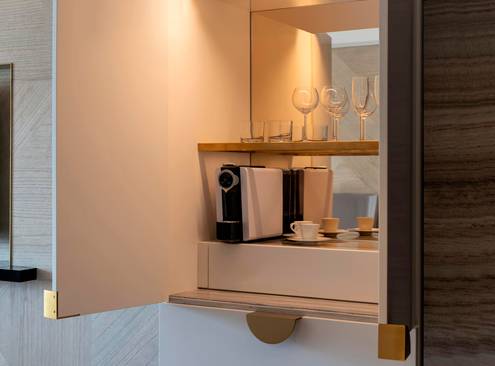 Superior Room
A home away from home, the generously proportioned Superior Rooms ensures you can enjoy the ultimate luxury and comfort while travelling for business.
Soak up the gorgeous views of the city of Doha while unwinding on your balcony.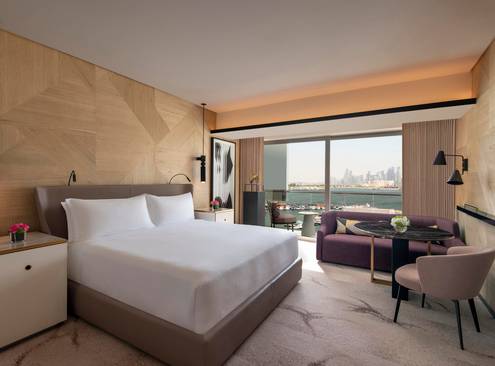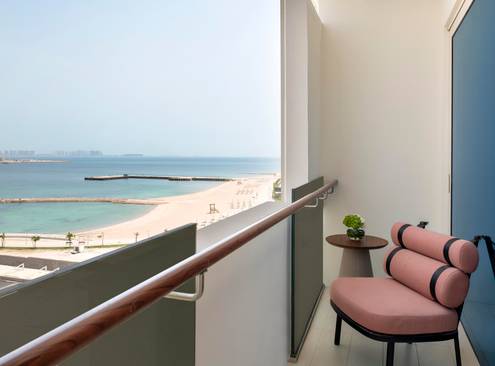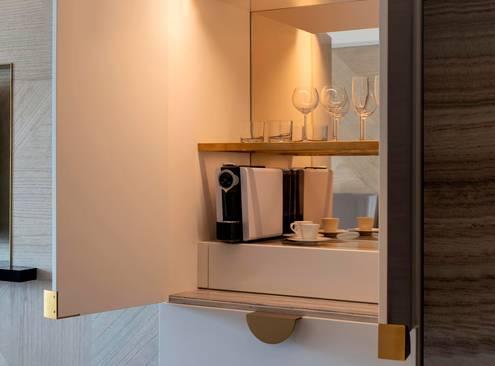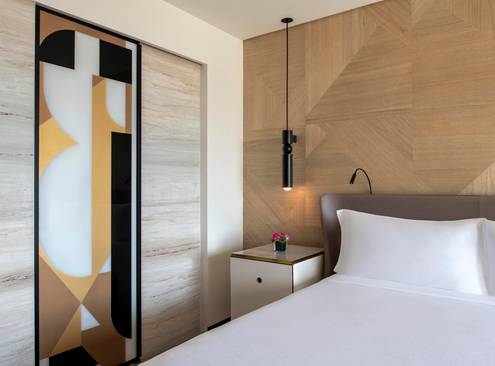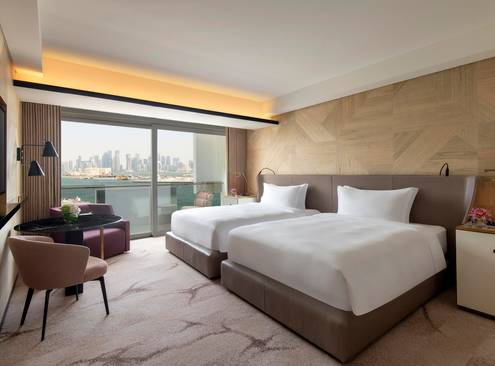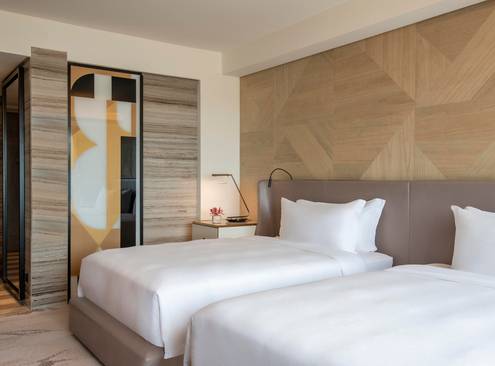 Deluxe Sea View Room
With breathtaking views of the ocean, the Deluxe Rooms are spacious, light and airy, offering guests a relaxing and comfortable retreat away from the hustle and bustle of city life.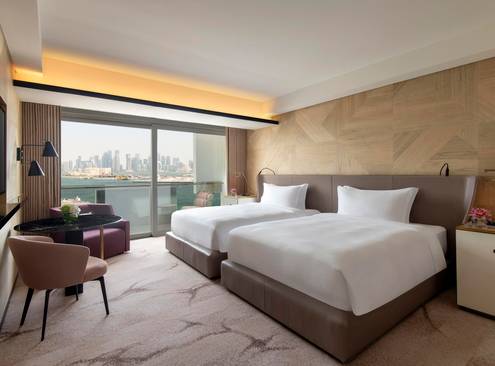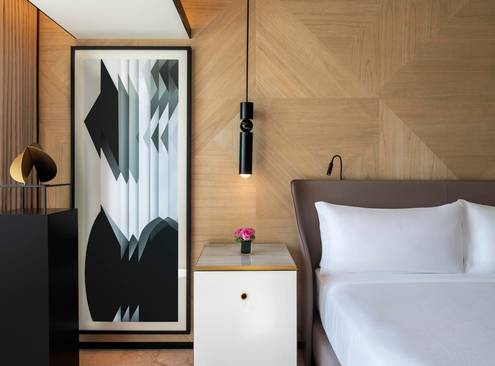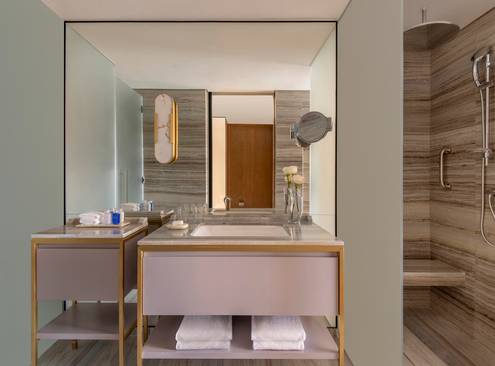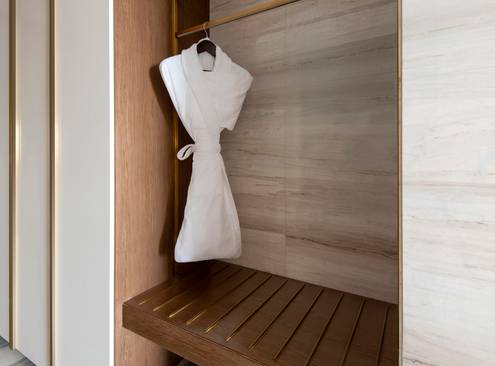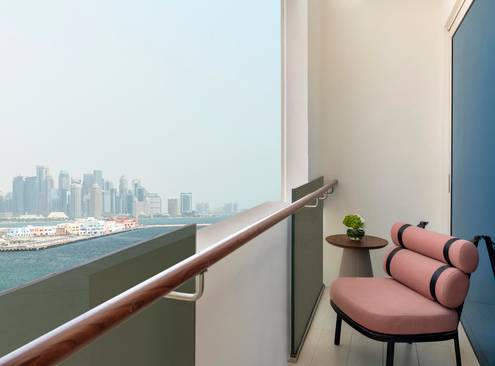 Premium Sea View Room
Elevate your stay with a Premium Room, offering spectacular views of the ocean from a height.
These rooms are spacious with the amenities, comfort and style expected of a five-star stay.
Suites
(6 types)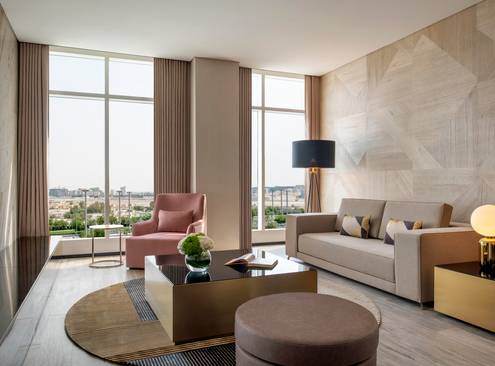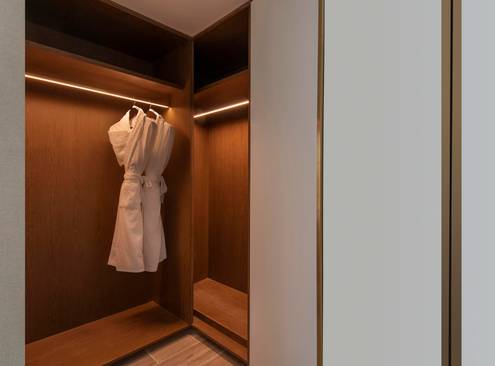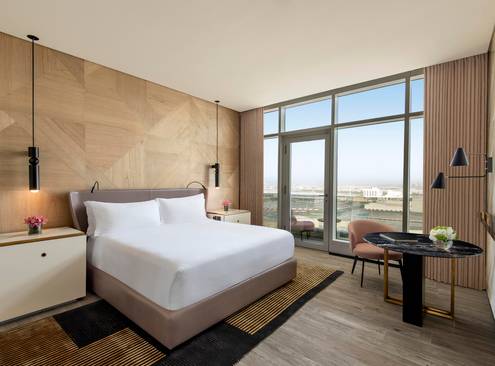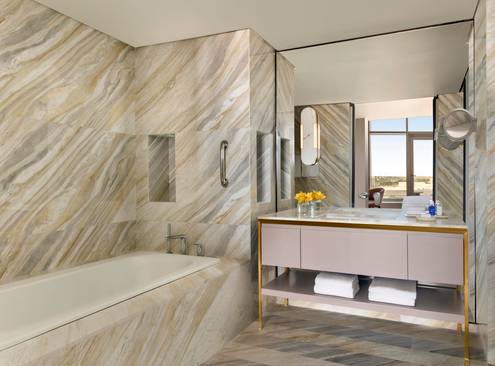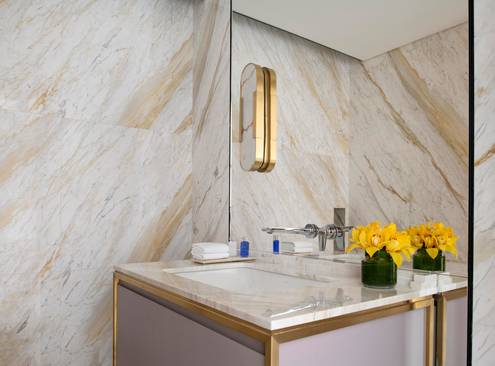 Junior Suite
The opulent Junior Suite provides visitors breathtaking view of the city of Doha.
The perfect retreat at the end of a busy day.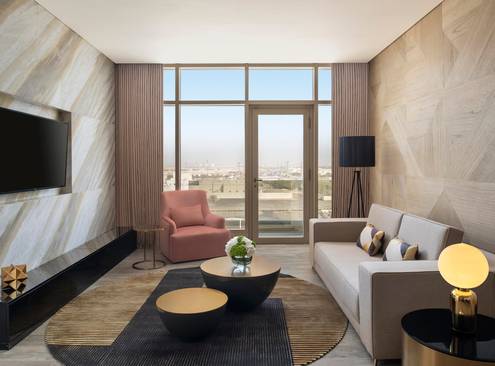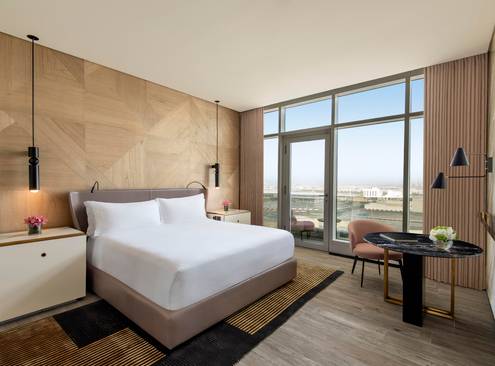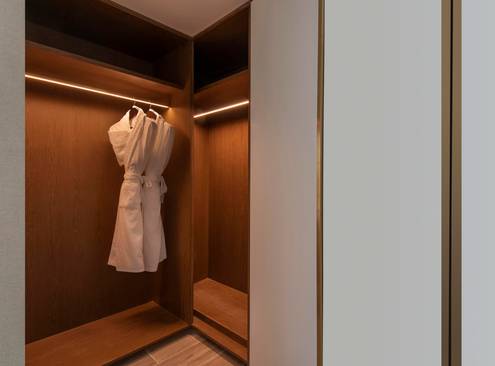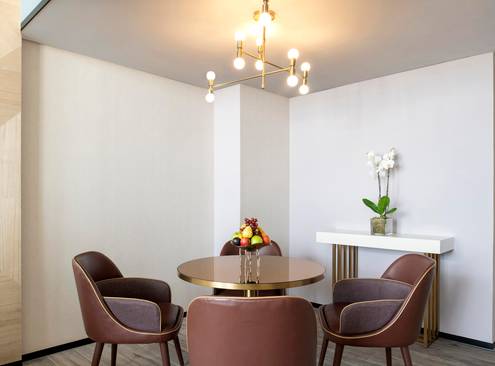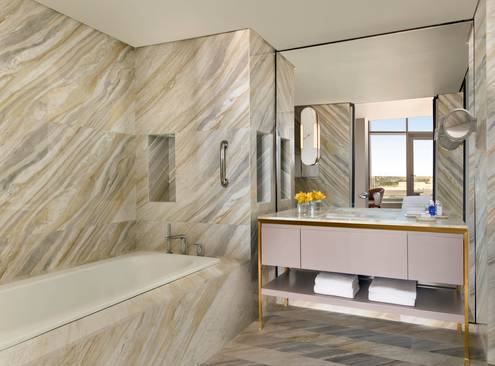 Senior Suite
Indulge in ultimate luxury, comfort and style in our Senior Suite.
Enjoy a peaceful ambience and a blissful night's sleep in a plush king-sized bed.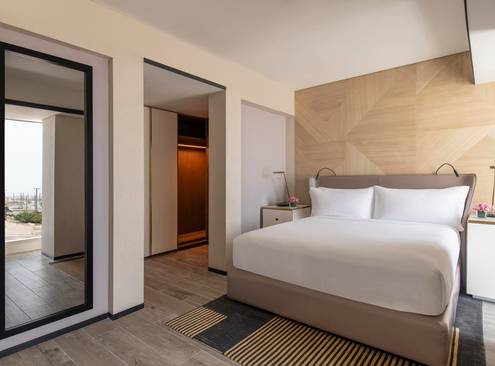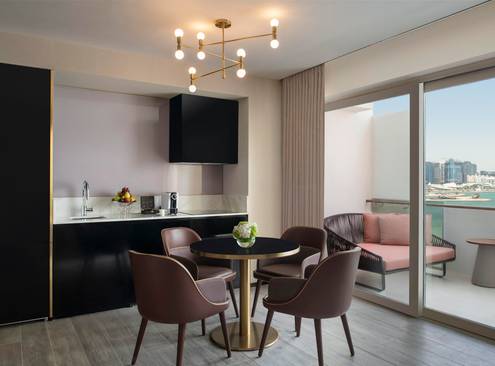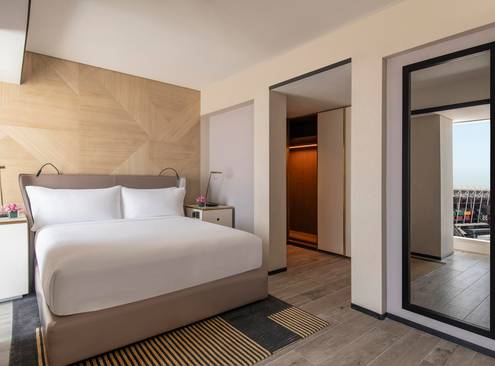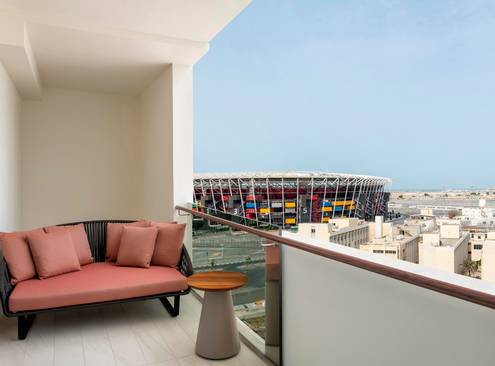 Executive Sea View Suite
Elevate your stay in our spacious and stylish Executive Suite, offering spectacular views of the Arabian Sea and Doha's skyline.
Indulge in comfort and style with luxury decor and amenities.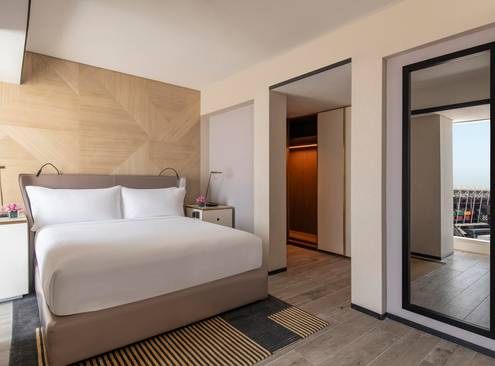 One Bedroom Premium Suite
Enjoy a memorable stay in a spacious one-bedroom suite that offers spectacular views, comfort and amenities.
These suites provide guests with everything they need to feel at home.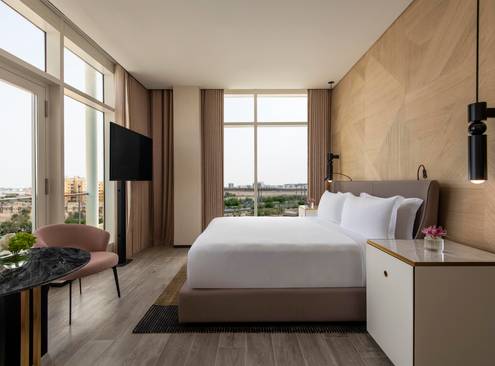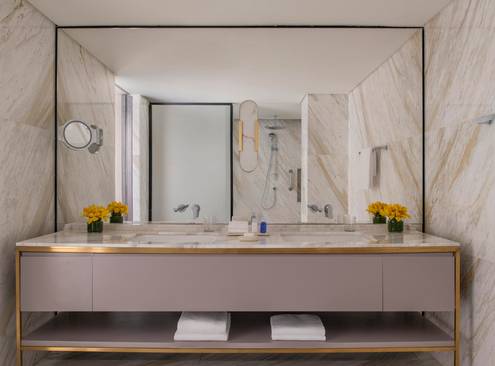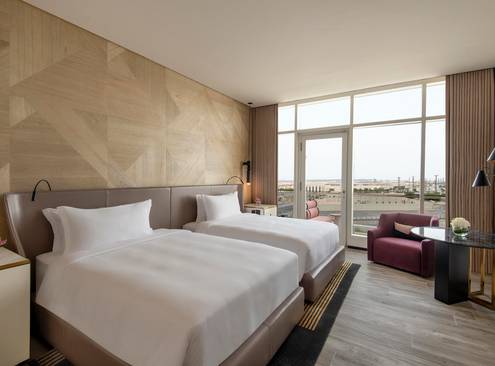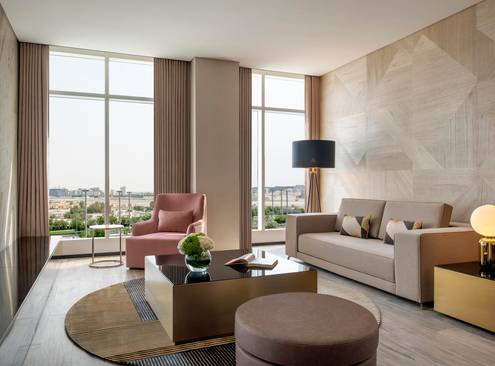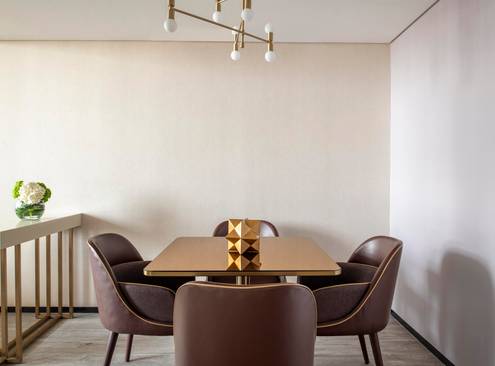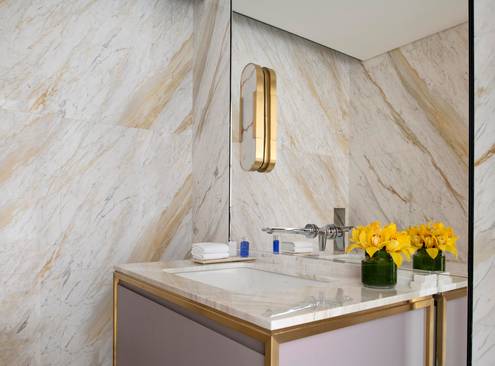 Two Bedroom Family Suite
Enjoy quality family time in comfort and style in our family 2-bedroom suite, offering spectacular views of the city of Doha, comfort and amenities.
The suite includes 1-living area, dining room, 2-bedrooms, and guest bathroom.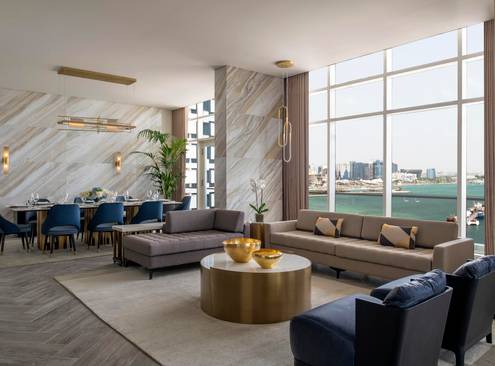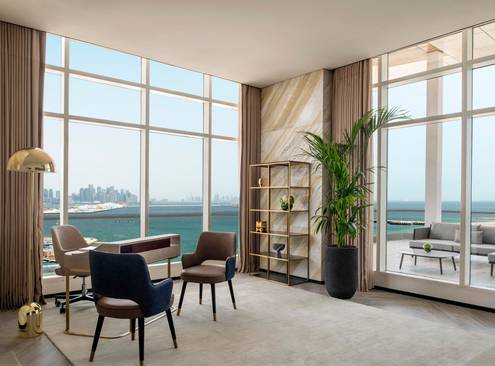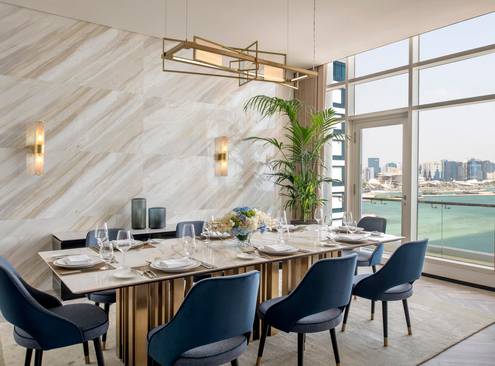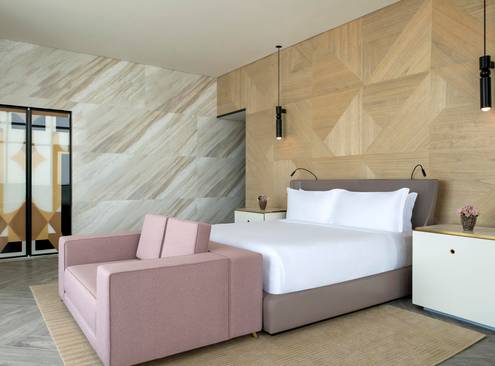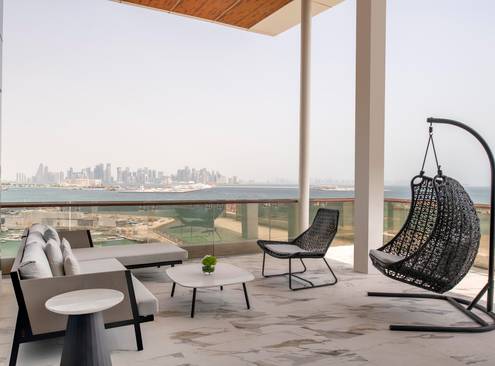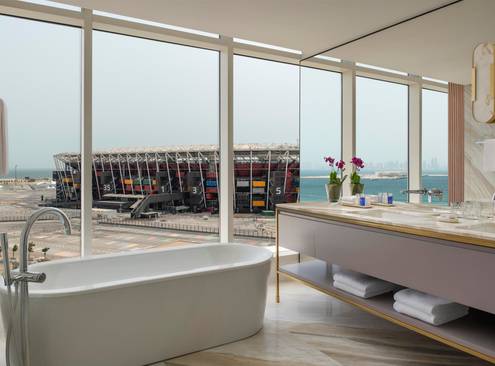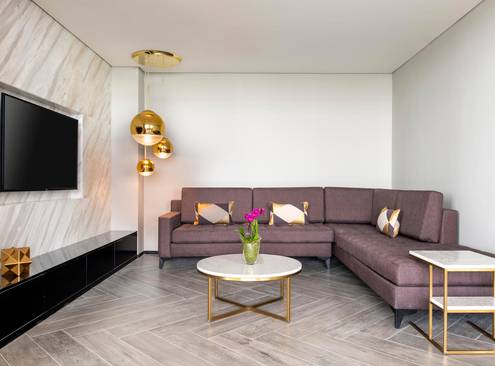 Katara Suite
Opulence and exclusivity await you with our chic and utterly charming Katara Suite, perfect for extended stays or VIP guests who prefer their own, private space.
The suite is a breakaway in itself with a spectacular 360 degrees sea view and the city of Doha that you can enjoy while unwinding on the balcony.
The suite includes 3-living areas, a kitchenette, dining room and living area, large in-suite bedroom, guest bathroom, and a private entrance for butler service.
Staycation Offers
FUN-FILLED FAMILY
If you're looking to spend an unforgettable vacation filled with entertainment programs designed for the whole family, then Rixos Gulf Hotel Doha is the perfect address for you.
See details +
Elevate your stay
Enjoy a memorable stay in spacious suites that offers spectacular views, comfort and amenities. Elevate your stay with Suite Escape.
See details +
ROMANTIC ESCAPE
Rixos Gulf Hotel Doha is introducing an all-inclusive romantic package for couples. Show your love with Rixos privileges.
See details +
family and friends
Enjoy the ultimate family getaway with our All-Inclusive stay with a mesmerizing Seaview. 
See details +
Gourmet Experiences
Restaurants (6)
Rixos Gulf Doha takes guests on an inspiring international gastronomic journey from elegant lounges, bountiful buffets and casual poolside bars, the hotel offers lavish outlets for every dining desire.
A La Carte
Monday to Wednesday I 16:00–00:00
Thursday to Friday I 16:00–02:00
Saturday I 13:00–02:00
Akte Pier 51 pays homage to Aegean cuisine presenting modern Greek dishes. Our recipes bring bright citrus flavours, grilled sea foods, and vibrant fresh accompaniments that embody the spirit of its origin.
Visit Website
A La Carte
Bar I

16:00–00:00
Restaurant I

16:00–00:00
The steakhouse is inspired by the tailor's attention to details which is translated into every dish through meticulous preparation and an obsessive approach to the art of cooking.
Visit Website
A La Carte
Bar I Tuesday to Sunday 12:30–00:00
Restaurant I Tuesday to Sunday 12:30–00:00
A contemporary take on traditional Indian cuisine, Rasa is entirely unique. The menu is inspired from the cuisine of Goa, one of India's most iconic places.
Visit Website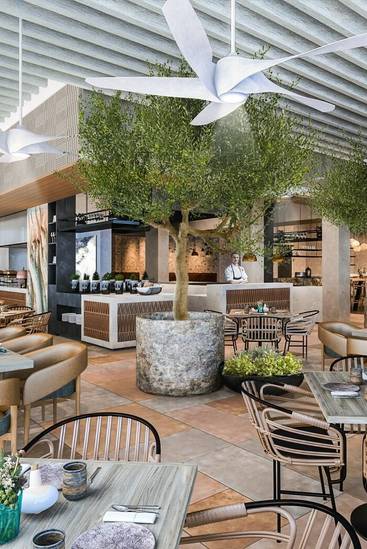 Farmhouse
Live Stations
Breakfast

06:30 – 10:30
Lunch

12:30 – 15:30
Dinner

18:30 – 22:30
More Than Friday Brunch 13:00 - 16:00
At Farmhouse, guests savour heart-warming food that reflects the farmer's work ethics and care.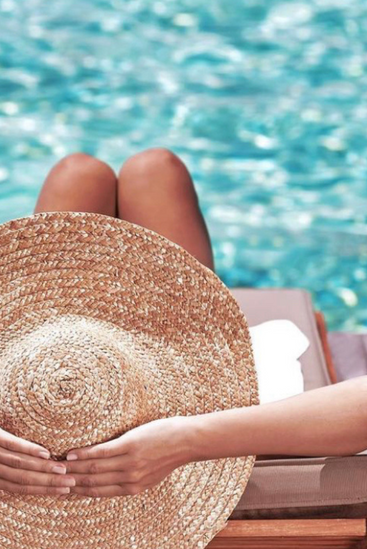 ZOH Lifestyle Deck
Daily I

10:00 – 20:00
Shisha Lounge

I

12:00pm - 22:00
Inspired by the sandy beaches of Ibiza, ZOH entices with

easy going and fun American inspired

lunch and a variety of stylish drinks while our guests enjoy the day by infinity pool side or bask in the sun at the beach.
Guests can have mouth-watering snacks by the poolside or indulge in comfort food offered through the stylish food carts.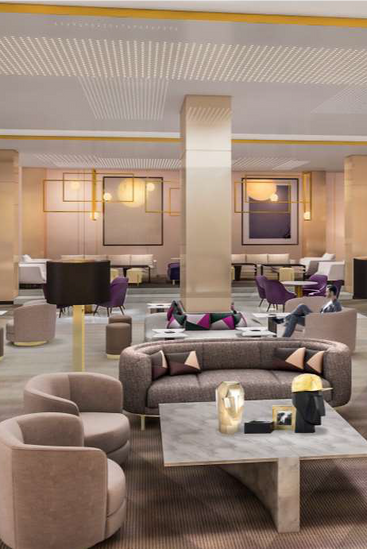 Crust
24 hours, 7 days a week
Afternoon Tea; Daily 14:00 - 20:00
Crust is an artisan bakery that is tucked along the hotel's lobby lounge. The venue showcases various design elements via a setup that is a fusion of Arabic inspired majlis and contemporary open space.
In line with the design of the venue, the plates are designed rather than plated where a collaboration with a local designer was created for all food and beverage accessories. Savour a variety of signature bakes and cakes.
Restaurant Offers
Ramadan Kareem
Embrace the spirit of the holy month in an exceptional way at Rixos Gulf Hotel Doha.

Ramadan Kareem
See details +
Every Friday 13:00 - 16:00
Join us for a family friendly brunch with entertainment, kids activities, indoor and outdoor food live stations and large beverage selection.
Soft Package QAR 399 per person
Enhanced Package QAR 499 per person
Location: FARMHOUSE
Reserve Now +974 4429 8888
See details +
Every Saturday - 13:00 - 16:00
Take your palate on a tour of seafood flavors with our live cooking station that features the finest catches of the day from freshly shucked oysters, lobster, prawns, mussels to king crab.
Our live entertainment program will add a special touch to your day.
Soft package QAR 299 per person
Additional 150 QAR for enhanced package per person
Book Now+974 4429 8888
See details +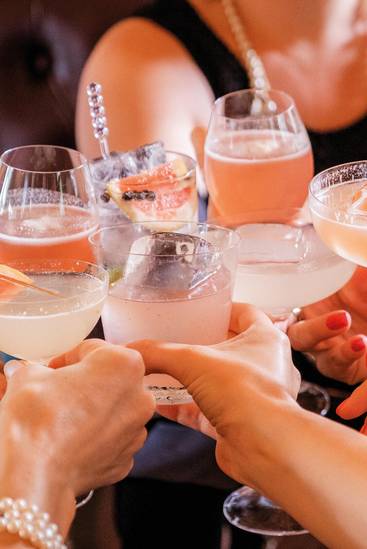 SHE NIGHT
Every Thursday 18:00 to 22:00
Are you ready for SHE Night?

Ladies can enjoy a free-flow of house enhanced beverages every Thursday at Akte Pier 51. 
120 QAR / per person from 6:00 PM to 10:00 PM

Reservation +974 4429 8888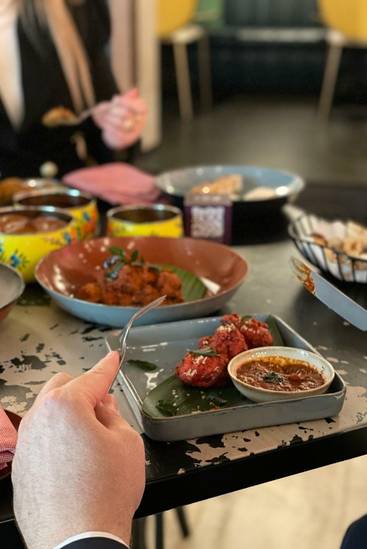 BUSINESS LUNCH at RASA
13:00 - 16:00
Break your routine and escape to a 3-course business lunch at Rasa for QAR 80 per person from 1:00 PM to 4:00 PM
*Available daily (except for Monday, Friday and Saturday)
Book now +974 4429 8888
Activities & Entertainment
Activity Offers
Exclusive Sports Club
With expert trainers and state-of-the-art facilities, our Exclusive Sports Club membership offers various sports activities to keep you motivated and active
See details +
Everyday 09:00 - 18:00
Access to Private Beach
Access to 3 Swimming pools
Exclusive Sports Club Access
Kids' Activities at Rixy Kids' Club
Outdoor Fitness Classes
Entertainment Programs for Adults

1 snack and 1 enhanced beverage
Weekday:  Per person 250 QAR (Kids 6-11 get 50% discount)                                 
Weekend: Per person 299 QAR (Kids 6-11 get 50% discount)   
*Terms & Conditions Apply                                   
See details +
Everyday 09:00 - 18:00
Indulge in unparalleled luxury and comfort as you unwind in our exclusive private garden cabanas, featuring many amenities for your convenience.
See details +
Anjana Spa
Discover your path to balanced lifestyle reconnect with yourself, others, and the new world around you.
See details +
0
Guests reviews
100% genuine reviews from our guests
Excellent Family Staycation
Stayed for 2 nights with 3 families and all had a great time. The pools and beach are are perfect with lots of activites and food & beverage offereings. The restaurants inside especialy Farmhouse and Mr Taylors are excellent. The live music in the lobby and in the evening in Mr Taylors is very special and adds a great feeling to the occasion.
everything perfect but the rooms are very small
the location and the view are awesome ... Rooms are cozy ... the staff is very freindly and helpful
Every thing is awesome .. except we face a problem that somebody open the door at 4:00 am while we are sleeping, and in the beginning i didn't feel any appreciation but then we met the front office manager and he deal with us in a good way... My notes: 1- We joined in a weekend, but the staff was to little comparing with the guests. 2- The food doesn't have much varity.
Good experience
Good to introduce "all inclusive" concept to hotels in Qatar. Rixos is very family oriented and suitable for kids from different ages. The staff are very friendly and helpful.